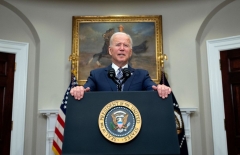 (CNSNews.com) – President Joe Biden announced Tuesday that the U.S. is on pace to finish the evacuation of Americans and Afghans with special immigrant visas, and vulnerable Afghans from Afghanistan by the Aug. 31st deadline, but he said that depends on the Taliban's cooperation in allowing access to the airport.
However, the president said he has asked the Pentagon and State Department for contingency plans to adjust that timetable if necessary.
"First, on evacuation, we agreed that we will continue to close — our close cooperation to get people out as efficiently and safely as possible. We are currently on a pace to finish by August the 31st. The sooner we can finish, the better," Biden said.
"Each day of operations brings added risk to our troops, but the completion by August 31st depends upon the Taliban continuing to cooperate and allow access to the airport for those who were transport- — we're transporting out and no disruptions to our operation. In addition, I've asked the Pentagon and the State Department for contingency plans to adjust the timetable should that become necessary," he said.
"I'm determined to ensure that we complete our mission — this mission. I'm also mindful of the increasing risks that I've been — I've been briefed on and the need to factor those risks in. There are real and significant challenges that we also have to take into consideration," Biden said. 
"The longer we stay, starting with the acute and growing risk of an attack by a terrorist group known as ISIS-K, an ISIS affiliate in Afghanistan — which is the sworn enemy of the Taliban as well — every day we're on the ground is another day we know that ISIS-K is seeking to target the airport and attack both U.S. and Allied forces and innocent civilians," the president said.
Biden said that the Taliban has been "taking steps to work with us so we can get our people out, but it's a tenuous situation."
"We already had some gun fighting break out. We run a serious risk of it breaking down as time goes on," he said.
"Second, the G7 leaders, and the leaders of the EU, NATO, and the U.N., all agreed that we will stand united in our approach to the Taliban," the president said.
"We agreed the legitimacy of any future government depends on the approach it now takes to uphold their international obligations, including to prevent Afghanistan from being used as a base for terrorism, and we agreed that none of us are going to take the Taliban's word for it," Biden said.
"We will judge them by their actions, and we will stay in close coordination on any steps that we take moving forward in response to the Taliban's behavior," he added.
"At the same time, we renewed our humanitarian commitment to the Afghan people and supported a proposal by the Secretary-General Guterres of the United Nations-led international response with unfettered humanitarian access in Afghanistan," Biden said.
"Third, we talked about our mutual obligation to support refugees and evacuees currently fleeing Afghanistan. The United States will be a leader in these efforts and will look to the international community and to our partners to do the same," the president said.
U.S. allies are "bringing to their countries Afghans who served alongside their forces as translators or in their embassies, just as we're bringing to the United States those Afghans who worked alongside our forces and diplomats," Biden said.
"We're conducting thorough security screening in the intermediate stops they're making for anyone who is not a U.S. citizen or a lawful permanent resident of the United States. Anyone arriving in the United States will have undergone a background check, and we must all work together to resettle thousands of Afghans who ultimately qualify for refugee status," he said.
"The United States will do our part, and we are already working closely with refugee organizations to rebuild a system that was purposefully destroyed by my predecessor," the president said.
"Finally, we agreed to stay vigilant against terrorist threats that have metastasized around the world," Biden said.
The president said that the U.S. and its allies went into Afghanistan for "clear reasons" after 9/11: "to get Osama bin Laden, and to make sure that Afghanistan was not used again as a base from which to attack the United States or our allies."  
"We achieved that objective. We delivered justice to bin Laden more than a decade ago, but the current environment looks very different than it did in 2001, and we have to meet the challenges we face today," he said.
"We run effective counterterrorism operations around the world where we know terrorism is more of a threat than it is today in Afghanistan, without any permanent military presence on the ground, and we can and will do the same thing in Afghanistan with our over-the-horizon counterterrorism capability," Biden said. 
"Cooperation with our closest partners on our enduring counterterrorism mission will continue to be an essential piece of our strategy," the president said.
"In short, we all — all of us agreed today that we're going to stand shoulder-to-shoulder with our closest partners to meet the current challenges we face in Afghanistan, just as we have for the past 20 years. We're acting in consultation and cooperation with our closest friends and fellow democracies," he said.