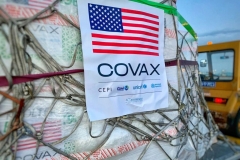 (CNSNews.com) – Two days after President Biden announced that the U.S. has delivered more than 110 million doses of donated COVID-19 vaccines to countries around the world – more than all other countries that have donated vaccines combined — Chinese President Xi Jinping announced Thursday that China aims to "provide" two billion doses by the end this year.
And Chinese state media insinuated that China was more generous than the U.S., noting that compared to the 110 million U.S. doses, China has already "provided" 750 million doses.
But the 110 million doses shipped by the U.S. to 65 countries around the world have been donated; they are free and, according to the administration, come with no strings attached.
"We're not selling them," Biden said on Tuesday. "There are no demands, no conditions, no coercion attached."
Of the doses China has sent around the world, by contrast, 96.6 percent have been commercial exports, and only 3.4 percent donations, according to data compiled by Bridge Consulting, a Beijing-based health sector consultancy, updated on Tuesday.
Moreover, some donations were possibly sweeteners for subsequent commercial deals. For example, a Chinese donation to the Philippines of 600,000 vaccine doses was followed by Manila buying a further 25 million doses.
Iraq last March received a donation of 50,000 doses, then struck a deal to buy two million more; Pakistan received a donation of 500,000 doses and plans to buy 25 million more.
That Chinese vaccines – both sold and donated – have come with stated or implied conditions attached has been widely reported. Some countries have received donations after reaffirming or shifting to Beijing-friendly stances on contentious issues like Taiwan or Xinjiang.
Also documented has been China's use of its vaccine supplies to burnish its brand, and counter unfavorable international perceptions of China due to its handling of the Wuhan outbreak.  
"Chinese vaccines are used not only for image repair and for expanding Beijing's great power ambitions, but also to reinforce and leverage existing soft power programs, and to capitalize on new economic and geopolitical opportunities," according to one study examining China's "vaccine diplomacy."
Reporting on Xi's speech, the Chinese Communist Party paper China Daily called it "the latest effort [by China] to honor its commitment to make vaccines a global public good by ensuring vaccine accessibility and affordability."
"According to the Foreign Ministry, China has provided more than 750 million doses and concentrates to over 100 countries and international organizations so far," it said. "China has provided more doses to developing countries than anyone else and has vaccine cooperation partners all over the globe."
Global Times, another CCP organ, posted a graphic pointedly contrasting the number of vaccine doses China and the United States have sent around the world – but drawing no distinction between donations and commercial transactions.
At a White House press briefing on Thursday, press secretary Jen Psaki was asked about Xi's announcement, and China's claim to have supplied more than 770 million doses to other countries.
"President Biden often says that the amount of vaccines that the U.S. has shared is more than the rest of the world combined," a reporter said. "I'm just wondering if you question China's math and/or whether the U.S. is planning to give more than the president has already said?"
Psaki said the numbers cited by Biden "were from international experts who've looked at donations."
"I don't have data to confirm in terms of the numbers that China has contributed to the global community."
Psaki also reiterated the administration's position that the U.S. provides vaccines "without strings attached."
"I'm not sure that's exactly the same approach that China is taking," she said. "In fact, it is not."
In his speech, Xi also announced that China will donate $100 million to COVAX, the international financing instrument helping to provide vaccines to low- and middle-income countries.
China has to date not contributed any funds to the initiative, which has a goal of distributing two billion vaccine doses by early 2022.
The U.S. has pledged $4 billion to COVAX, while other major donors include Germany (which has pledged $1 billion), Japan ($800 million), and Britain ($672 million). Russia, like China, has yet to contribute.
See also:
US Has Donated the Most Free Vaccines by Far; China Has Sold More Than It's Donated (Aug. 4, 2021)