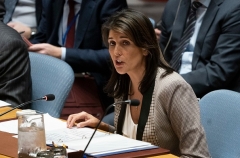 (CNSNews.com) – The U.N. Human Rights Council is "a who's who of genocidal maniacs, murderous thugs and tinpot dictators," and the Biden administration was sending "the worst possible signal" by rejoining it, former U.S. Ambassador to the U.N. Nikki Haley said on Sunday.
Haley, who oversaw the Trump administration's withdrawal from the Human Rights Council, told the Christians United for Israel 2021 summit that the Geneva-based body's obsessive focus on Israel was "the height of hypocrisy and insanity, and it shows how broken the council really is."
She also shone a light on some of its more controversial members.
"Communist China, communist Cuba, Russia, Venezuela – it's a who's who of genocidal maniacs, murderous thugs and tinpot dictators," she said.
"It's bad enough that dangerous regimes use the Human Rights Council to cover up their own crimes. It's even worse, they spend their days going after the free and democratic country of Israel."
She noted that Israel – alone out of the 193 U.N. member-states – is the subject of a permanent item on the council's agenda. As a result, Israel ends up being condemned every time the HRC holds a regular session (three times a year).
"It's the height of hypocrisy and insanity, and it shows how broken the council really is."
The HRC recently adopted a resolution establishing its first-ever open-ended "commission of inquiry," examining Israel's conduct during 11 days of hostilities between rocket-firing Hamas terrorists and the Israeli military.
"It won't look at Hamas," Haley said of the commission. "It won't look at [Hamas' sponsor] Iran. Instead the Human Rights Council is investigating Israel, and whether it committed war crimes."
The outcome was not hard to figure out, she said.
"It will claim that Israel violated human rights. It will call for Israel to be punished. It will spew the same tired lies that we've heard a thousand times before."
The Trump administration withdrew from the HRC in 2018 after efforts to reform it, led by Haley, failed.
She recalled on Sunday that when the administration was considering leaving, a European ambassador had told her that the U.S. must remain a member, "because we were the last ounce of credibility it had."
"That was all I needed to hear," she said. "I went to the White House and told President Trump that we needed to get out of the Human Rights Council, immediately."
"America will always fight for human rights, but we don't need to be part of that farce."
The Biden administration in February re-engaged with the HRC, with Secretary of State Antony Blinken saying that although the body was "flawed," U.S. withdrawal had done "nothing to encourage meaningful change."
It plans to run for a seat for a three-year term, in elections in the fall.
Haley said the decision ran "contrary to common sense."
"America is sending the worst possible signal: The freest country in human history is lending legitimacy to the most oppressive regimes on the planet."
"Here's the truth the Biden administration needs to hear," she said. "If you support human rights, you must oppose the U.N. Human Rights Council."
Current members of the 47-seat HRC include China, Russia, Cuba, Somalia, Sudan, Bahrain, Cameroon, Eritrea, Gabon, Libya, Uzbekistan, and Venezuela's Maduro regime – all countries ranked as "not free" by the Washington-based democracy watchdog Freedom House, which grades countries each year on political rights and civil liberties.
In addition to those 12 "not free" members, another 16 are "not free," a group including Pakistan, Mauritania, Bangladesh and Burkina Faso.
The remaining 19 members (40.4 percent of the total) are "free."
At no time in the HRC's 15-year history have more than 25 of its 47 members been "free." The smallest contingent of "free" members was 18-strong, in 2016.
During that 15-year period, China, Cuba, Pakistan, and Saudi Arabia, have each been elected (for three-year terms) four times.